How To Find Out The Right Size Cap Or Pump For Bottle?
Before you choose a cap or pump, you need to know the correct size. For example, a 24/410 bottle will only accept a 24/410 closure.
How Are Closures Sizes Defined?
Screw thread closure sizes are expressed with two numbers separated by a hyphen or slash.
The first number refers to the inner diameter of the closure (in mm)as well as the outer diameter of the bottle neck fishish.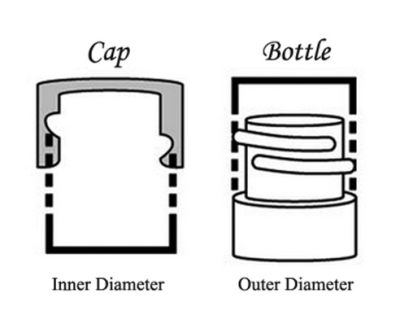 How To Measure The Diameter Of A Cap Or Bottle Neck 
The second number represents the "GPI" or "SPI" thread finish and refers to the height of the closure relative to the number of thread turns on the container neck. The most common numbers are -400 (one full turn of thread) and 410 (one and a half turns). Some bottles will have a -415 neck which is two full turns.
Common GPI or SPI Neck Fishish For Caps Or Pump Clousres
How To Measure A Neck Finish?
1.        Find a cap's diameter, measuring from one side of the inner wall to the opposite side or calculate a bottle's neck finish by measuring the diameter of the outermost threads.
2.        See how many times the threads pass one another to determine the finish. (ex. diameter 24 mm with 1 thread turn = 24/400 neck finish)
Leave a message, we will help answer any questions you may have.